The Facial Room in Chandos House
Welcome to The Facial Room in Chandos House, a haven of tranquility nestled on the top floor of the illustrious building that The Dr Sebagh Clinic and Skin Care call home. The treatments offered in The Facial Room are a truly indulgent experience designed to revitalise, rejuvenate and transform your skin. Combining the ultimate Ageing-Maintenance ingredients with cutting-edge technology, The Facial Room in Chandos House is where timeless elegance meets modern beauty. Discover the transformative power of our treatments and unveil your most radiant, luminous complexion.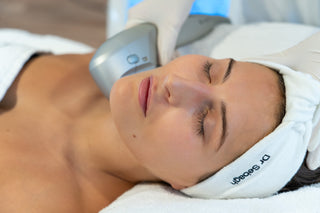 NEW AND EXCLUSIVE
Dr Sebagh Ultralift Facial
Also known as the 'Glass Skin Facial', this brand new facial treatment combines cutting-edge ultrasound technology with a bespoke application of Dr Sebagh Advanced Ageing-Maintenance Skin Care products for a truly lifted, sculpted and tightened visage.
First, skin is cleansed and exfoliated before being prepped for treatment with the Ultralift machine.
Ultralift uses multi-functional high-intensity focused ultrasound (Multi-Functional HIFU) to stimulate skin rejuvenation by triggering the body's natural process of collagen synthesis. Warm pulses of ultrasound energy are delivered deep under the skin, causing the muscle layer to contract. The gentle heat also encourages a natural process of rejuvenation stimulating collagen production.
After 10 minutes of treatment with the Ultralift machine, our facialist will blend a cocktail of serums from Dr Sebagh's infamous Serum Bar tailored to each individual's skin needs and suitable for use after treatment with Multi-Functional HIFU. Immediately following The Ultralift Facial your skin should feel tighter, smoother and more youthful.
Advanced Ultralift Facial
Add an additional 10 minutes of treatment with The Ultralift machine.
£380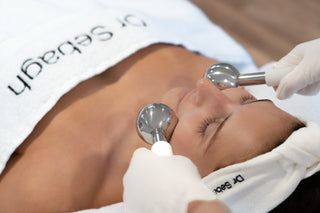 Ultra Eye Lift Facial
A quick-fix 30 minute treatment to brighten, depuff and lift the eye contour featuring a bespoke application of Dr Sebagh Advanced Ageing-Maintenance Skin Care products.
The treatment starts with a deeply purifying double cleanse before lifting the eye contour using Ultralift/HIFU technology. Using two different heads specifically made for the Dr Sebagh Clinic we target a number of areas around the eye. We target the sides of eyes to help minimise the appearance of crow's feet and under the eye area to drain puffy fluid from around the eyes. Eyes are left revitalised and bright with brows beautifully lifted. 
This is followed with relaxing and rejuvenating facial Massage around the eye area to improve circulation, relax the muscles, promote alertness and wakefulness and prepare skin for the absorption of active ingredients.
Your facialist will apply an eye serum containing a mixture of potent ingredients including peptides and hyaluronic acid to instantly illuminate, tighten and refresh the eye area; correct dark circles; alleviate puffiness and soothe the skin; reduce the appearance of fine lines and deeper wrinkles; boost elasticity and add radiance to the eye contour. This is then followed with an eye cream the choice of which will be tailored to suit your needs.
Finally, an application of serums from the Dr Sebagh Serum Bar and a moisturiser tailored to your individual skin type and needs.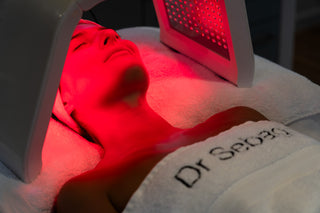 Dr Sebagh Signature Facial
Beautifully tailored to the needs of your skin, each step of this hour-long treatment is expertly designed to leave you looking rested and radiant and your skin glowing with renewed vitality.
Using products from the Dr Sebagh Advanced Ageing-Maintenance Skin Care range, the treatment includes lymphatic drainage to assist detoxification and promote blood flow as well as a 'muscle workout for the skin', which focuses on lifting and firming the muscle layer beneath the skin to define and firm the contours of the face. The treatment finishes with bespoke LED light therapy.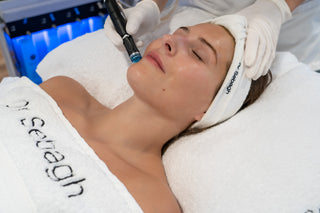 Dr Sebagh HydraFacial
This highly sought after, powerfully rejuvenating and glow-boosting facial is expertly tailored to meet the needs of all ages and skin types. The 45 minute-long, non-invasive treatment uses unique HydraFacial technology to help reverse the signs of premature ageing caused by pollution, toxins, UV rays and other external aggressors.
After a thorough consultation, the HydraFacial involves three core steps:
1. cleanse and peel (with gentle exfoliation and relaxing resurfacing)
2. extract and hydrate (to decongest pores and intensively moisturise)
3. fuse and protect (to deliver antioxidants and peptides to the skin and boost radiance).
The treatment concludes with a bespoke application of Dr Sebagh Advanced Ageing-Maintenance Skin Care products. After the first
HydraFacial, skin looks noticeably smoother, firmer, plumper and glowing with health.
Dr Sebagh recommends building on and maintaining the benefits with a monthly treatment.